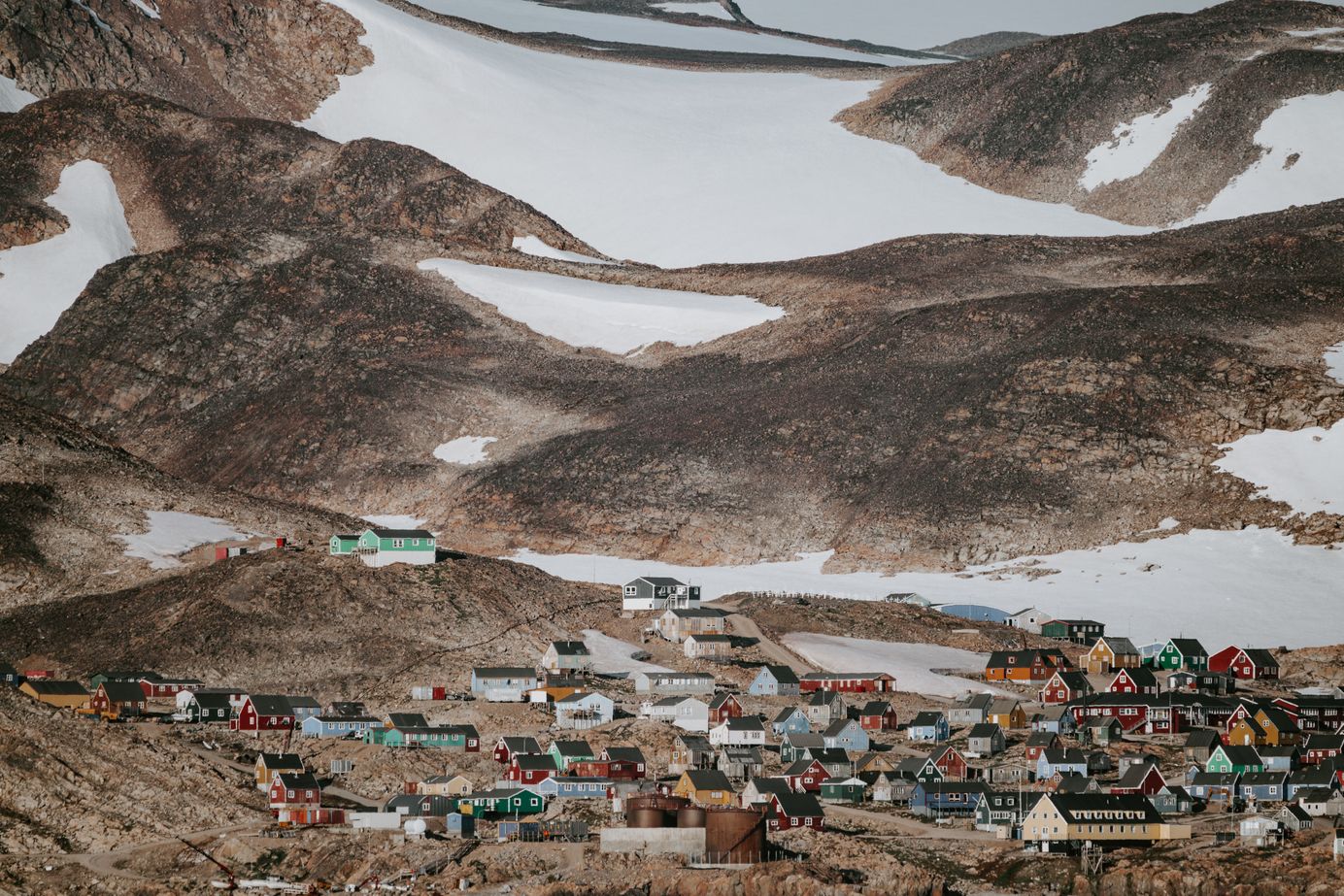 Greenland is not for sale. Film series NOMAD LAND
With this project I wanted to find something that would make us see ourselves vulnerable in nature again, fragile and small as we've always been throughout evolution. Then I found myself in Greenland, tiny, anxious, and nature-struck.

Takes 5 minutes
Teaser of NOMAD LAND - Creature cast
---
Landing
How is it that I never get past the feeling of being new to things? I wish my stomach didn't notice it as much when I start a creative project. No matter how much I prepare for them, once they start I feel like a student again.

This time it wasn't the new drone, the new gimbal, or the highly refined set of expectations that I placed upon myself after landing in one of the most difficult and expensive places to shoot. This time, I had a local co-producer, a crew, a composer, the Greenlandic National Museum on board, and the most famous actress of the land to give me confidence, but the idea of not being capable to shoot what I needed, drowned my spirit the first days. I still needed to learn a great deal bout working on a cross-cultural film project, drop my stereotypes, be willing to change course, and understand that good intention are not always enough.
Without repeating what I already wrote about why I decided to begin NOMAD LAND, the project I refer to here, I knew from the start that my role would be more of a producer than a director. That the key issue here, the truly interesting approach, was to create spaces for self-expression and participation. I needed to break free from the dualisms and oversimplifications with which Greenlanders are frequently perceived, and help them tell their own stories while being in a semi-fictional format. I wanted NOMAD LAND to be theirs, done through workshops, in Greenlandic, covering certain Greenlandic mythical tales.
I am not surprised that I panicked a bit when things didn't go as expected on my first trip to Nuuk. Now I see the real value of the trip, which is not only the footage but the lessons learned about addressing indigenous people, representation, and storytelling. Greenlanders can be harsh and unforgiving when telling you what they don't want. I guess they have been misrepresented enough times to see me more like a threat than a friend. There I was wanting to talk about the most intimate stories, the past, and the ghosts. I will always thank them for showing me how little did I know about the world and ways of living.

NUUK
The main focus for this trip was to meet with partners and participants. I knew that with my budget and time I was to remain in the capital. There are no roads leaving Nuuk, just boats and planes.
My interest was in understanding how people from many parts of Greenland had been "forced" to move to Nuuk due to the closing down of mines and industries. Some of these buildings contained more people than the village they came from, and space was lacking. I stayed myself in some of them and the city, and the houses, and the notion of forced relocation became my subjects.

---
An ongoing project
I will share with you more on how we structured the project, the budgeting, or the applications sent for funding. Below you'll find a little extract from an application that summarizes our intentions, it might help you understand what kind of film project I am talking about. If you are thinking about creating your own project and are looking for inspiration, have a look at the full description of NOMAD LAND that I created for potential partners and investors.
NOMAD LAND - Outputs
Our proposal is to create concrete materials and experiences that will spark conversations about the importance to protect nature, taking a look at the intersection of mythology, and the critical loss of ancient knowledge, in areas where climatic uncertainty is most felt.

Materials for the first season of Nomad Land:
A series of 5 short documentary films, of approximately 15 minutes in length, where local myths, tales, and narratives, explore the shared beliefs and histories of northern communities about nature and the mysterious powers in it. All chapters will be connected by the figure of a narrator, who personifies the spirit AAJUMAAQ (The sleeved one), a primordial Greenlandic mythical figure.
Note: All the series will be recorded in the local languages.

A series of four to six two-day workshops on audio recording and filmmaking. In this way we grant the inclusion of local views into the production, train people in specific skills that could serve their lives or professions, and put them in contact with what it means to make films, hoping to continue working with the participants in the future series.


Online as well as offline meeting points. The project will produce a traveling exhibition, aiming to create meeting points for dialogue and understanding (at Universities, Museums, and Cultural houses). There will also be an online channel to show our creative process and engage with audiences.

---
Qullissat - Exodus
Along with the research for the project, I realized that being in Nuuk offered me the opportunity of creating meeting points, cross generational conversations, around the idea of leaving the place people grew up in. In this case a grandmother telling her granddaughter why she had to leave Qullissat, something she had not thought about for a long while.
Qullissat Coal Mine, on Disko Island, was shut down overnight in 1972 after more than 50 years of activity. The inhabitants of the once upon a time largest industrial city in Greenland were relocated to new villages and towns that were not always welcoming. Many of them taken to the controversial Blok-P in the distant capital Nuuk.
To this day, the closure of Qullissat remains an open wound, however, it seems that the experiences and lessons learned then paved the way for home rule in Greenland, illustrating the importance of public participation in any venture that has to do with the extraction of natural resources.
Conversations on leaving
---
In my own experience
Perhaps it was the partially shared invisibility that I feel being a Spaniard in Denmark, or the surprise of finding almost no one here knowing anything about Greenland, a former Danish colony, and what Greenlanders have endured under the thumb of the happiest country in the world, that triggered me to learn more about one of the largest island on Earth.
Greenlanders, "our Indians" as some Danish folk referred to them while talking to me, were labeled as a kind of a lost cause; drunk, lazy, and irreparable. It wasn't until I started visiting Greenlandic circles that I began to understand the complexities of some evils affecting Greenland today (child abuse, alcoholism, and suicide) the strength of their personality, as well as the risks brought by the newly discovered natural resources where the ice is gone. I wonder how a population of only 57,000 people, semi-autonomous since the referendum of 2018,  will keep control over its natural wealth against the pressure of China, the Us, Denmark, and others. Will these new discoveries be a curse and a door for new colonialism and environmental cataclysm? I hope not.
Note: In 2013 the Greenlandic parliament voted to end the ban on the mining of radioactive materials such as uranium, leading to a boom in mining for minerals.
---
I guess that what I am trying to say here, from a documentalist point of view, that there is a lot to learn about how Greenlanders perceive climate change, nature, growth and storytelling. But it is impossible to create anything meaningful without cross-cultural collaborative efforts that bring forth local thematic interests, aesthetic concerns, and cultural depth in storylines that inspire us to making new some of the old ways to relate to nature.
I will keep on informing you how this project goes, I hope we get funding. The Greenlandic mythology is rich and powerful and if you are curious about it, I would recommend you check two books that have been very useful to me. The first one is called "Soul Beautify Thyself" and "Bestiarium Groenlandica"

The article on audio
---
Become a member
I hope this was useful to you.
If my work has enlarged and enriched you in any way, please consider helping this platform by becoming a member. Your support makes all the difference.
DISCLAIMER

The links to the book that I review here are affiliated links. That means that if you decide to buy it through our link, we'll get a little commission. 100% of the profits we get from them will go to planting trees with the programs: Plant for the Planet and Global Forest Generation.
Return to the top of the page
Comments
Sign in or become a MoonLeaks member to join the conversation.
Just enter your email below to get a log in link.
Become a member to participate in the conversation
MoonLeaks Newsletter
Join the newsletter to receive the latest updates in your inbox.
---