Helping Nature through the Creative Expression and Partnerships
MoonLeaks.org is a social enterprise that aims to become a collaborative production platform, where thousands of people get together to create audio-visual materials that help preserve nature and protect its creatures.
This is a space that will raise funds, co-produce, and showcase the creative expression of artists, projects and groups that have environmentalism at the heart of their work.

MoonLeaks' vision
We are storytellers whose vision is to create a forum where to learn about how to better help the earth, bringing forth the achievements and efforts of people who are already doing a great job at it. All profits from this platform go to create films, articles, and podcasts that raise awareness about animals and environments in need.

MoonLeaks looks to inspire action through audiovisual productions and well-researched contents. From how the connection with nature can help our mental health, to what habits can be implemented in our lives to minimize our impact on the planet, the contents of this platform will be put at the service of funding stories that matter for the well-being of creatures on planet earth.

We believe in cultural activism, education, and entrepreneurship as fundamental pillars for the development of sustainable societies and environments. We promote freedom of expression, creativity, and the valuing of local resources for the development of cultural projects of global interest.

MoonLeaks' project approach
We want to enable storytellers and use the creative expression as a tool for change. Read below a bit of what our plan is, see our current projects, and subscribe to get all the updates about why, where, how and with whom, we will begin our next productions.
Briefly put, this platform, MoonLeaks, with its subscribers and other fundraising mechanisms, will co-produce with local artists of areas where climate change or the loss of biodiversity is hitting the hardest.  
Each project has a mentor, an artist, director, organization, or film school, that will help us create learning materials in local languages, and local approaches to storytelling, to document with the people closest to the issue the story at hand.  
The membership model of this platform is the best way to kickstart projects, communicate them to wider audiences, and welcome the insight of the community about where we should focus our attention.

Solving a challenge:
Many times, the representation of issues of environmental or social importance is carried out by entities, groups and interests, foreign to the place where the stories happen. Most of the time this is done with good intentions but with a lack of understanding about the complexities and nuances of such local issues.
It is normal that the production crews or reporters leave the place, and the interest in the story, once the film is done, never to come back. Those interventions are not our modus operandi here at MoonLeaks, where we look for long relationships with those with whom we produce, teach and learn from. We want to keep on communicating the stories we feel passionate about on this platform, train creative professionals, raise awareness, manifest livelihoods, and welcome the community in the process of making things happen.
Our vision as producers
We believe in a world championed by the open exchange of knowledge, enabling people to explore and creatively participate in a global dialogue with their ingenuity, creativity and love. We want the creative warriors for earth to take the camera, the pen, the mic and work with us to document what works for nature, where the interest should put and what are the stories that aren't covered and could use our help to reach global audiences.

The benefit of putting these stories out in the world is not only felt by the portrayed cause, animals or environments, but also by the local communities around the films. Part of our efforts are put into co-producing with local creators in areas where climate change is most felt, or where there is an animal in need, and help them achieve their goals through mentorship and creative matchmaking.  

The creative response that occurs when participating in such processes, as filmmaking or storytelling, empowers everyone involved to experience the world more fully and express what they believe is important. It encourages people to take an active role in the world and challenge the destructive ideologies that surround us.

The creative response is our answer to the question "What kind of world do we want to live in?" and can be used as a tool for change. Cultural activism is a much-needed force in our everyday lives; we should rebel creatively against what harms those most vulnerable.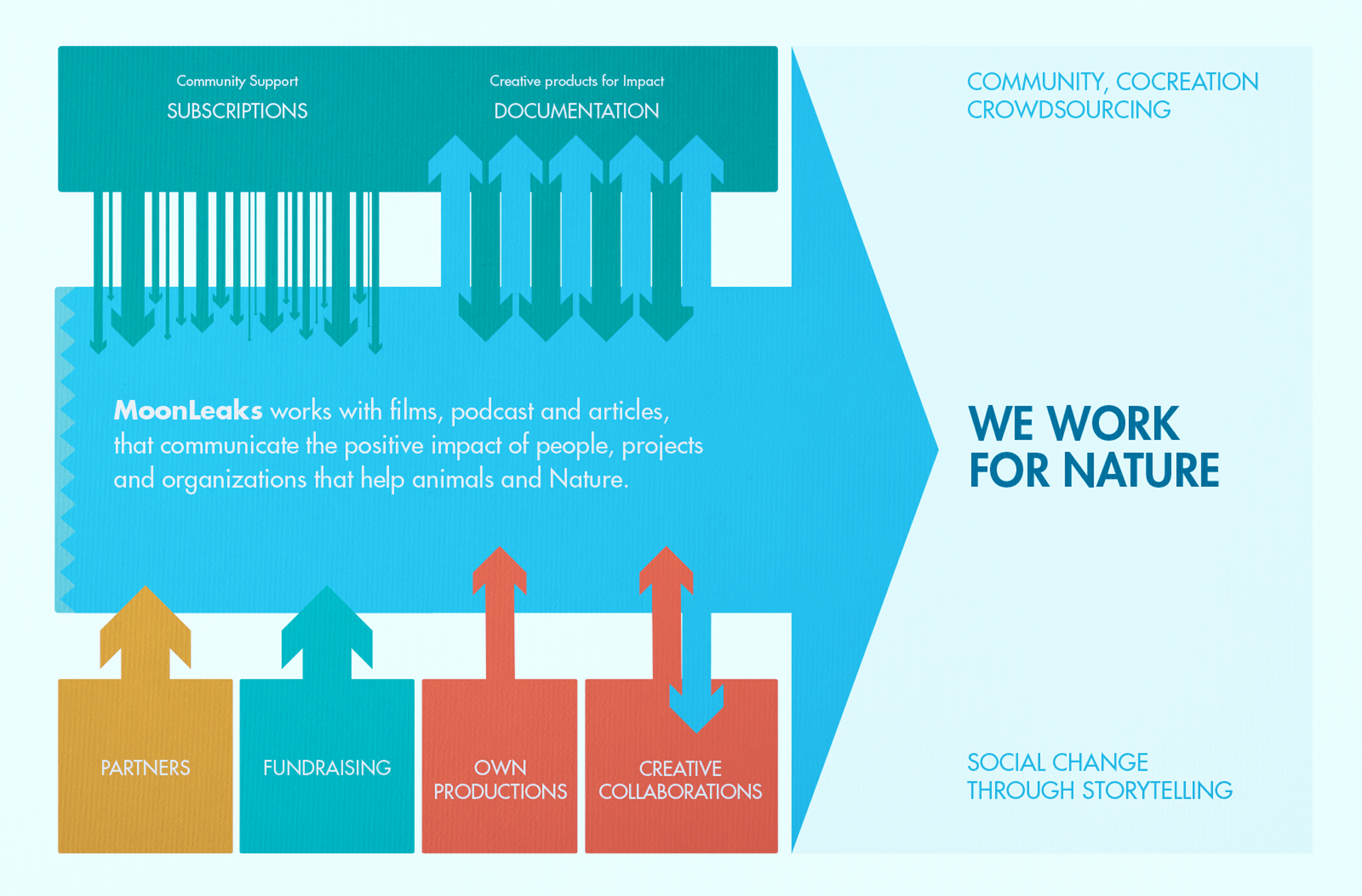 Our mission
Facilitate the creation of a community of participants, co-creators and investors, working in projects that will improve the preservation of all living creatures.
Empower developing communities through education in audio-visual capabilities, via tutorials, online-based master classes and other means, to help them produce and share their contributions to nature.
Support community based initiatives that encourage inclusion and transparency.
Disseminate values of freedom, equality and diversity of cultures, identities and species.
Support development through education, creative expression, partnership and arts.
Align our work with the global efforts and the UN Sustainable Development Goals, thus encouraging social mobilization and the increase of the peer pressure on issues that matter.
---
---